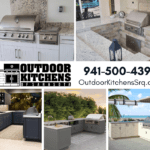 🔥 Ready to take your outdoor entertaining to the next level? Look no further than Outdoor Kitchens of Sarasota!
🍴 From paver cabinet bases with stainless components to marine grade cabinets, we offer a wide range of options to help you create the outdoor kitchen of your dreams. Our expert team will work with you to design and install a space that is not only beautiful but functional and durable as well.
🌞 Whether you're looking to cook up a storm for family and friends or simply want a cozy spot to relax and unwind, an outdoor kitchen is the perfect addition to any home. With high-quality materials and expert craftsmanship, we'll help you create a space that you'll love for years to come.
📍 Contact us today to learn more about how Outdoor Kitchens of Sarasota can help you create the outdoor living space you've always dreamed of. Let's work together to turn your vision into a reality!
https://bit.ly/2MD1l0B 
#OutdoorKitchen #SarasotaLiving #Pavers #Entertaining #Grilling